Mums in Kent talk about giving birth in lockdown including at Darent Valley Hospital in Dartford
Concerns about disruption to learning for schoolchildren have been given a lot of attention - but what has the impact of Covid-19 been on newborns and their parents?
Although many people predicted a baby boom as a result of the pandemic, this couldn't have been further from the truth, as the latest figures show a decline in birth rates throughout 2020.
Northfleet mum Samantha Savill talks of her pregnancy experiences during the pandemic
Nine months ago we were in the middle of the first lockdown and many, including the minister responsible for maternity services, felt a baby boom might be on the cards as a result of couples spending more time together.
Despite this not happening, so far, experiences from new mothers in Kent show childbirth has still been massively affected by Covid-19.
Samantha Savill is a mum-of-three from Painters Ash in Northfleet.
The childminder gave birth to Molly on October, 23, weighing 8.11 pounds at Darent Valley Hospital, Dartford.
She said: "I haven't caught Covid but I did really isolate myself from everybody whilst I was pregnant, because at the time, they weren't really sure about the effects on pregnant women.
"Leading up to the birth was a lot more difficult than my previous two pregnancies because I was isolated a lot. I also had to go to the scans on my own and my partner really struggled with that because he was so involved with our other two children's scans.
"I had really bad anxiety about the birth because I'd heard so many stories about your partner not being allowed in the hospital."
Samantha has been with her partner, Farai Mutepfa, a 36-year-old scaffolder, for six years.
They already had Leo, five, and Zak, three.
Samantha added: "With my boys, my mum and my partner were my birthing partners and that was something that was tough because my mum was devastated she wouldn't be a birthing partner again.
"The anxiety leading up to that was tough because I was so worried about Farai not being able to come in with me and being in pain on my own.
"When I arrived at Darent Valley, they examined me and I was six centimetres dilated and because of that he was allowed in with me straight away, which was lucky.
"The birth, other than the leading up to it, was fine really. My midwife, Claire Luther, was amazing and Farai was allowed in and to stay afterwards."
The 36-year-old added: "When I had the boys people came to visit, that wasn't allowed this time. It was a lonelier experience.
"This lockdown has been hard because my eldest son should be at school and my middle child at nursery. They're at home so I'm trying to homeschool when I should be enjoying time with my baby while I'm on maternity leave.
"But the thing I'm finding most difficult at the moment is dealing with 'mum guilt'. I'm not spending enough time with Molly."
Although many mums like Samantha saw changes with their labour and pregnancies, data from the Office for National Statics (ONS) doesn't show much of a change regarding birth rates.
From January to September last year there were 464,437 live births in England and Wales.
This was a 3.6% decrease compared with the same period in 2019 and a 15.3% decrease since the most recent peak in 2012.
Although this may be a surprise to those who predicted a baby boom, the statistics follow the modern trend, with birth rates declining over the last eight years.
Some reasons for this include the improvement of access to contraception, reduction in mortality rates in under-fives and many women postponing pregnancy.
Therefore it is unlikely Covid-19 has affected the fertility rate. However, the ONS has not released data for last September to now.
In a statement, it said: "We will continue to monitor the impact of the coronavirus on births and may release further analysis in 2021 as the impact of the coronavirus and national lockdowns become clearer.
"This information will also be available in our 2020 conceptions publication and our 2021 births publication released in 2022."
Kent County Council has released data for 2019 – data for 2020 will be published later this year.
Although the number of mums across the county might not have necessarily increased as a result of the pandemic, many have faced other challenges.
Strood mum-of-two Laura Chesmer gave birth to Reuben on January 6 at Darent Valley.
She has been married to her husband, Dave, a 29-year-old software engineer, for five years. They also have a four-year-old daughter, Autumn.
The 29-year-old said: "This pregnancy was a lot more stressful because I couldn't see my mum.
"Sometimes you need a hug from your mum and I couldn't have that.
"I was very worried about the virus and I took the decision to go to as few places as possible.
"I couldn't go to any pre-natal classes, I didn't go anywhere. It was very different."
Originally from Gravesend, the Rochester Cathedral verger added: "There were fewer appointments this time round but it may have been due to this being my second baby.
"Dave was allowed in with me when I gave birth but my family have only see Reuben from a distance.
Gallery1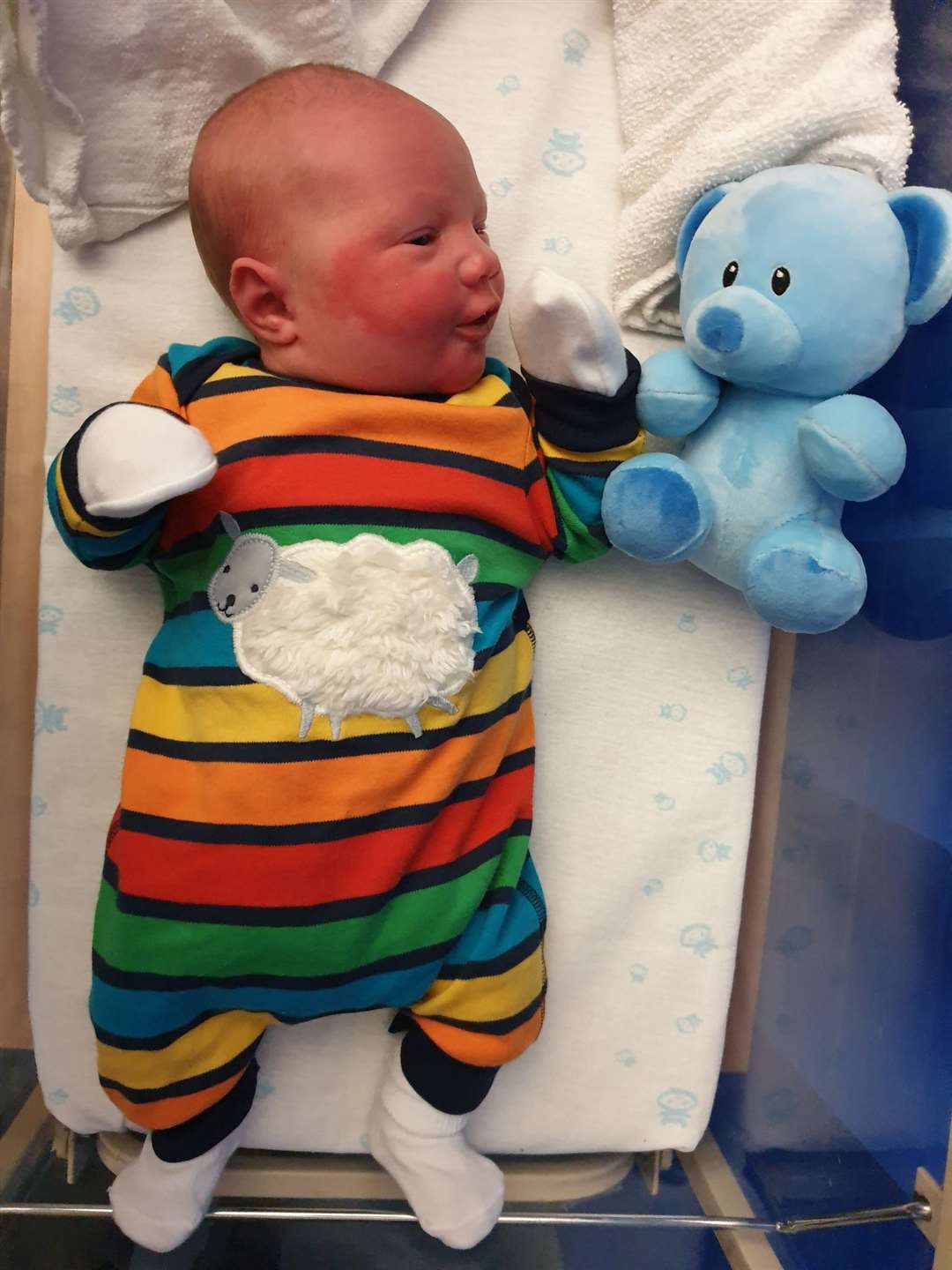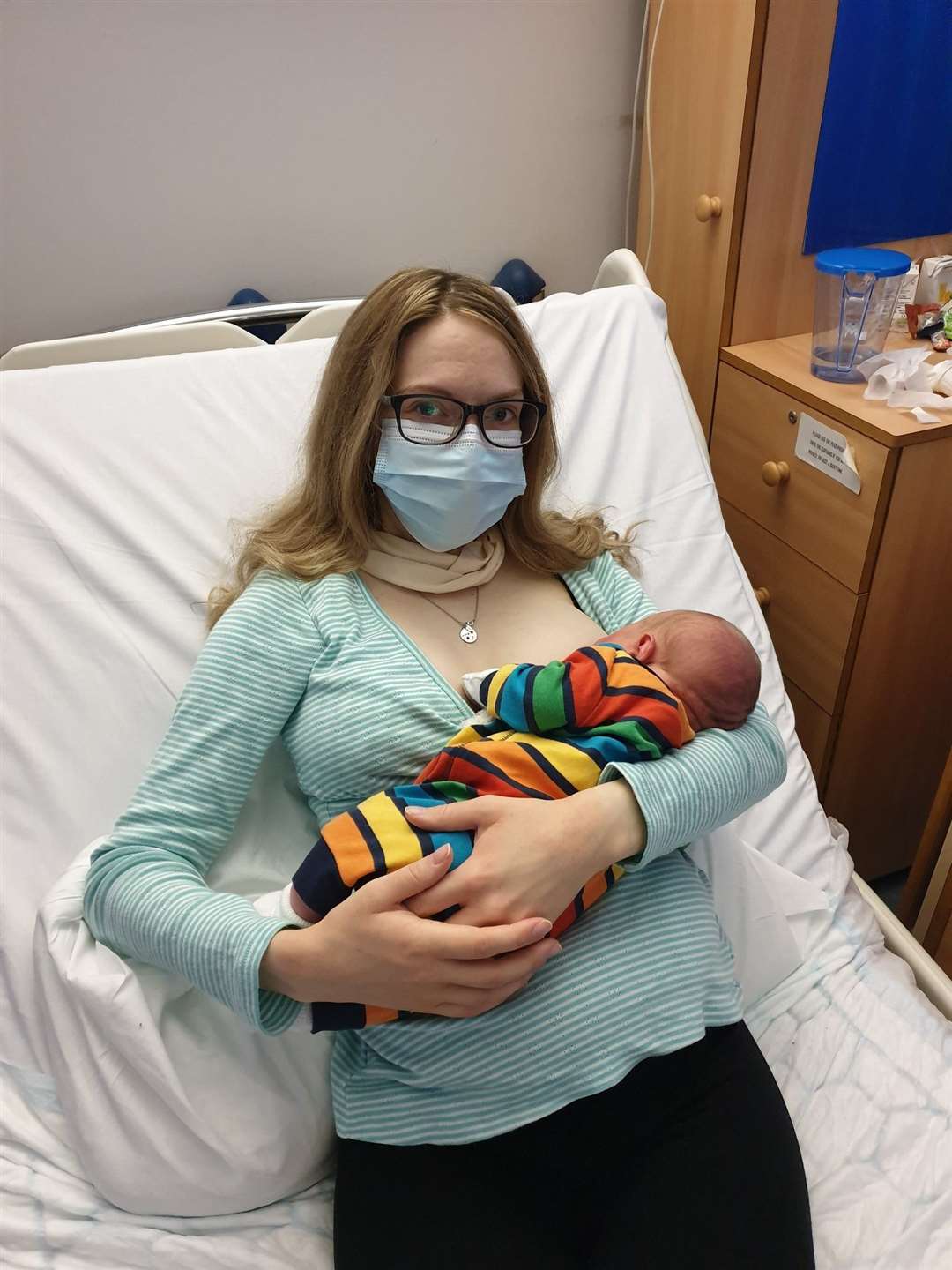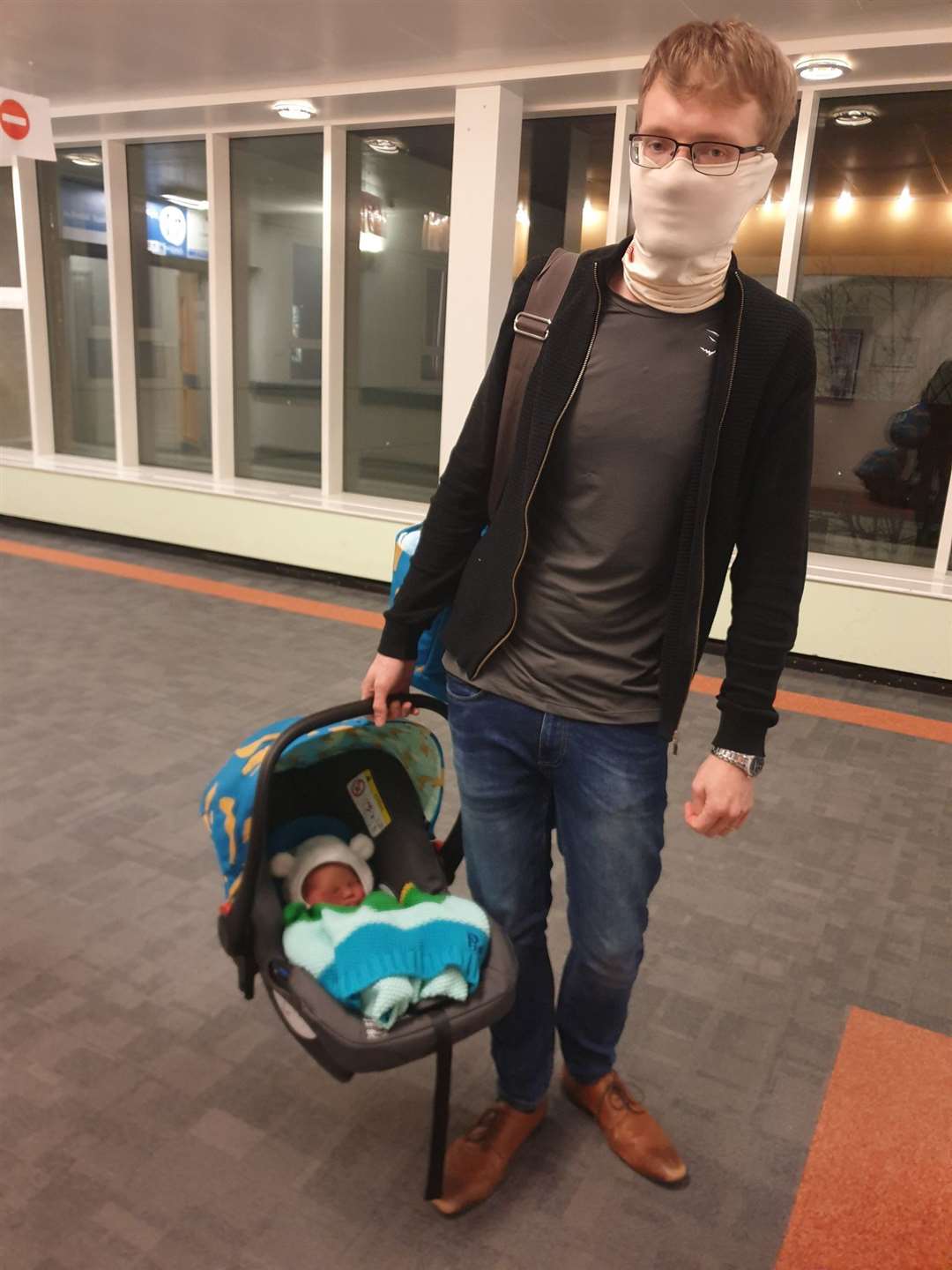 "My mum said she can't believe she's missed out on newborn hugs forever and it almost made me burst into tears.
"The main difference I've found between my first and second-born in regards to Covid-19 is there has been a lot less support and mums have been left to wing it.
"It's a good thing this was my second pregnancy because I would've felt completely lost if it was my first."
Antonia Thompson, of West Hill, Dartford, did not have the prior experience like Laura.
The 25-year-old gave birth to her first born, Elsie-Rose Kent, who weighed 5.14 pounds, on July 7 at Darent Valley.
She found the experience very stressful, saying: "I wasn't allowed anyone in the hospital with me when I had the baby scans and found out Elsie-Rose's gender.
"It was a massive thing for me because my partner couldn't be there through those special stages.
"Being pregnant in the first lockdown was horrible because I was so isolated.
"I wasn't allowed anyone in the birthing suite until she was about to come out.
"That was really difficult because me and my partner don't live together, so he wasn't allowed in at all, only my mum was. He wasn't present at her birth and he had to wait until we were discharged to meet his daughter. It was horrible.
"I was looking out of the birth centre window and I could see him in the car park but the windows were darkened.
"I was trying to hold the baby up to the window so he could see her but he couldn't see me."
The nursing assistant added: "I left the hospital sooner than I should have. I was discharged within four hours but because I was there without him, I wanted to leave and be with my partner.
"My mum was with me but she could only stay for four hours which is why I left when she did.
"Trying to talk to nurses with masks on was really hard. It was all muffled and I was confused.
"At two weeks old, Elsie-Rose got a really bad cold and had respiratory problems.
"We went to Darent Valley and they tested her for Covid which was the most awful thing I've ever experienced.
"Thankfully, her test came back negative but she just had a really bad cold because she was so small.
"I'm very protective of her because of Covid.
"I know children aren't getting it as bad but there is still that risk."
The NHS has confirmed although children can get the virus, they get it less often than adults and it's usually less serious.
Lucy Giles also had her child during the first lockdown.
The 21-year-old, from Strood, gave birth to Elise at Medway Maritime Hospital, Gillingham, on May 2.
The tot weighed in at 7.12 pounds.
Lucy said: "Being pregnant through Covid was quite scary.
"I didn't find out I was pregnant until February and then we went into lockdown in March.
"Because of that I had no support in terms of pre-natal classes.
"I was really scared about the thought of catching Covid.
"Most of the hospital staff were in PPE. One of the midwives was exempt from wearing a mask but that was actually quite nice because I could see a smiling face. I was in labour for three days and in hospital for six days.
The bartender said it was very lonely in hospital.
"When I was waiting to go into the delivery suite, I was on my own, in pain with no idea what was going on," she continued.
"I had to stay in hospital as I had a high temperature after labour. They thought I had an infection so I had to stay and have antibiotics.
"My partner at the time was allowed in the delivery room but after they finished the paperwork he had to leave and I was alone for the three days.
"The midwives were lovely but I wish I had someone to hand the baby to so I could sleep. I didn't sleep for three days."
There's no evidence that pregnant women are more likely to get seriously ill from coronavirus.
But pregnant women have been included in the list of people at moderate risk as a precaution.
Ursula Marsh, director of midwifery and gynaecology for East Kent Hospitals, says it has been a difficult time for staff and patients alike.
She said: "We know pregnancy and childbirth is a very important time. Our team have continued to work incredibly hard throughout the last year to support women throughout the pandemic.
"As with the rest of the NHS, we have had to make some changes to ensure the safety of all our women, babies and our staff. We recognise that every person has individual needs and may need an altered plan.
"All women can discuss their own circumstances with their midwife."
Pharmacists across the county have also talked about how their pregnancy services had been affected.
Aaron Jangra, 48, who owns Merlin Pharmacy in Chatham, said: "There hasn't been a change in contraception sales since the first lockdown.
"However, pregnancy test sales have gone up and I have seen an increase in pregnant women.
"I think there may have been an increase because people are at home, and now more in contact with the people they live with."
Pharmacists at Headcorn Pharmacy explained they were also selling lots of pregnancy tests.
However, this wasn't the case elsewhere.
Krunal Vyas, manager at Sheppey Community Hospital pharmacy, said: "Pregnancy test sales have actually decreased since the first lockdown.
"However, there has been an increase in contraception and morning-after pill sales."
The 43-year-old added: "We have seen a major increase in the use of the contraceptive pill.
"We provide these as a service to whoever wants it and I have seen an increase in demand.
"I've seen a fall in expectant mothers since the first lockdown.
"It was very different last year, but since December there has definitely been a fall in pregnancy."
Meanwhile, staff at Newton Place Pharmacy in Faversham had not seen an increase in pregnancy test, contraception or morning-after pill sales.
And White Cliff Pharmacy in Dover also said it had not seen any increase.
For support, advice, events and all things to do with parenting in Kent, visit My Kent Family here.